Product: REGOLINO Single-phase pump inverter with self-regulating system for electric pumps - VFDs, PRESSURE SWITCHS & PUMPS ACCESSORIES
REGOLINO
Water boosting by inverter - costant pressure
 

Inverter Nomenclature: Regolino
Use: Increased pressure, constant water pressurization
Installation: vertical position
Power: 230Vac single-phase - 0,75kW - 1Hp
Adjustable pressure range: from 0,5Bar to 10Bar
Dry running protection: YES
Management: One or more electric pumps in constant boosting systems
Management of an electric pump: inverter modulation
Standard equipment: electric cables and schuko plug on the power supply
Pressure Tank: recommended

 

 
The following products models are available for purchase:
MODEL

Power supply of the inverter

Power supply of the pump
 

Shipping

 

VAT
excluded

 

 

REGOLINO 8A INVERTER PER POMPE MONOFASE XP4701

1x230Vac

1x230Vac

1,00kW

8A

Sconto 20 %

€ 253,00 € 202,40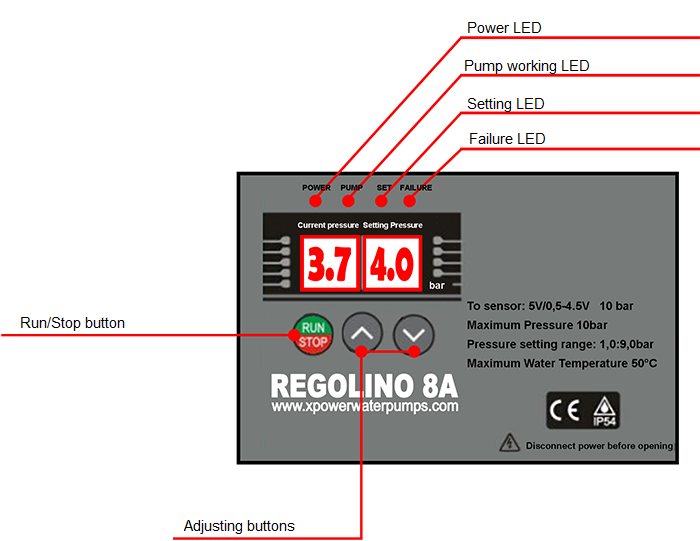 DESCRIPTION
Latest generation inverter, the REGOLINO inverter holds three exclusive patents. It is characterized by the proportional integral derivative controller (PID controller or three term controller), and from the self-regulating system to constantly check the operating parameters of the installed pump, that allow a saving of electricity up to 80%. Its programming is extremely simplified (It is not required a qualified operator to set up the inverter). This X-Power Water Pumps product ensures energy saving thanks to the "soft-start" restart and to the modulation of the power based on the amount of water. To further optimize energy consumption, it is recommend to use an expansion tank.

 
-Setting pressure value shown directly on the display
-Current pressure value shown directly on the display
-Self-regulating system for the electric pump amperage
-Dry-running protection system
-Automatic restart of the pump after blocking due to dry running
-Non-return valve mounted on the delivery connection
-Watercooled (cooled directly from the pumped water)
HYDRAULIC CHARACTERISTICS
-1" male entry and male exit
-Maximum flow rate 120 liters per minute with 1.2 Bar of pressure drop
-Average flow rate 100 liters per minute with 0.8 Bar of pressure drop
-Minimum flow rate 1 liter per minute
-Max working pressure: 10 Bar
ELECTRICAL CHARACTERISTICS
-Inverter power supply: 1x230Vac
-Electric pump power supply: 1x230Vac
-Electric power supply of the second electric pump: 3x230Vac
-Protection class: IP55
-Insulation class: F
ADJUSTMENT
-Proportional through two buttons